Probably WhatsApp is the most memory-consuming instant messenger today. As if Good Morning messages with hot cup of coffee and a croissant or some chirping bird were insufficient, the enthusiasts are creating and sending messages for greeting "Good Afternoon" and "Good Night" too. These images and other media files start accumulating in chunks especially if you have a setting of Auto Download. These useless images eat up large space of our mobile devices leave very little space for their smart use. At times they also slow down the device performance. At some point of time it becomes very annoying.
WhatsApp has over a billion users. It is thus not surprising if your WhatsApp messages screen is full of different threads, and groups you've just been added to by friends and family. Most, if not all of us receive and send a ton of WhatsApp messages every day. And we all have those friends, relatives or family, that wouldn't miss the chance to send those motivational images. Some feel it is their duty to send Good Morning and Good Night images every day. Even if your WhatsApp circle is the more fun loving and carefree type, you're not safe. You're more likely to be dumped with funny memes all the time in that case.
On Social Networking sites, these spam messages don't affect you in any way, and you can unfollow a person without them knowing you have. On WhatsApp though, things get a bit more personal and blocking the person might not be a practical option. It could be someone close or a relative you don't want to upset.
The simplest way is to open the WhatsApp Images folder on your mobile device, Select Delete, and then select all those images you wish to delete. But this is quite time consuming job if the number of images accumulated is very large. It is very annoying to clear all WhatsApp junk this way every few days to reclaim your phone memory.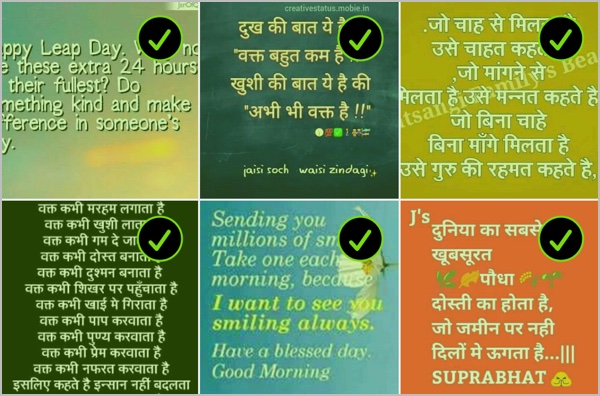 That is, however, not usually the case, and this almost junk folder contains a lot of images you might not want to delete. Siftr labs have an easier solution to this problem. Siftr, is an Indian startup founded by ex-Adobe employees. Their intelligent Android app called Magic Cleaner can help you delete the dumped, useless WhatsApp images automatically.
Just like Google's image recognition API, Siftr labs developed their own image recognition engine that ca analyze pictures and videos and distinguish between the junk and genuine stuff. The app supports Android 4.0.3 and above so you should have no problem running it.
How to Delete Dumped WhatsApp Images
Download and install Siftr Magic Cleaner from the Google Play Store.
When you first launch the app, it will brief you about what it does.
Tap on the head of Dr. Kleen and Magic Cleaner will start analyzing the photos in your WhatsApp folder. All the sent images, wallpapers, received images, everything.
It does a good job finding out the junk images, but its understanding of "junk" might be a little different from yours. As you may see in the screenshots, the app selects all the images that are not actual photos.
These include wallpapers that may have been shared with you and other graphics that you might not want to be deleted. Images with an address or phone number, screenshots or anything that does not have a genuine photo like feel to it is also selected.
So make sure you take a good look at what you're saying goodbye to.
When you're ready, just tap on the delete button in the bottom right corner.
Your device is now free of all those useless images that were dumped onto it by your relatives and friends. And also the images that you may have dumped onto everyone else's devices. For a while, and then you might have to use the cleaner again.